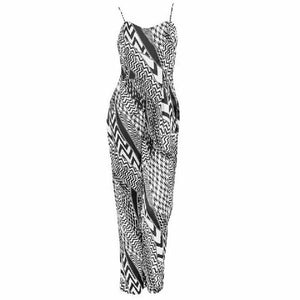 Black Geometric Print All in one strappy jumpsuit.
Features.

Chic and seriously flattering.
Day-to-night Jumpsuit.
Scoop neckline, Sleeveless.
Adjustable spaghetti Straps.
Side enclosed zip fastening.
Back zig-zag top mid back fastening.
Top burst lined.
Soft fabric, absorbs sweat.
Slim fitted to show off a complimentary figure.
Brand new with tags.
Machine washable.
Measurement Guide
Size           Burst               Waist              Length
8                28" (71cm)     24" (61cm)    50" (127cm)
10              32" (82cm)     26" (67cm)    50" (127cm)
12              34" (44cm)     28" (72cm)    50" (127cm)